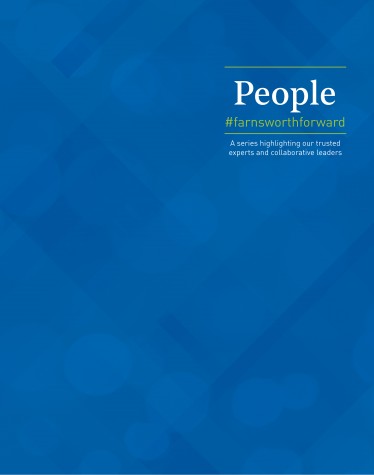 Matt Davidson serves as a Senior Client Advisor in Champaign, IL. We recently caught up with him as part of our people, passion and performance series.
What's great about Farnsworth Group? I appreciate the variety of projects we get to complete. I like that I have the flexibility to call on contacts I have regardless of location. The Company does a good job of putting people where they can be most successful.
Career milestones or achievements: Matt served as the Director of Governmental Affairs for the Illinois Department of Transportation and worked to successfully pass a sorely needed Capital Infrastructure Bill. Of that time Matt said, "two hours was the most sleep I had for any night during the last week before passage."
Matt appreciated receiving the Outstanding Service Award from the Secretary of the Illinois Department of Transportation for these types of efforts.
Why client advocacy as a field? I enjoy trying to help communities, companies and people solve problems no matter the size job or location.
Outside of work: Matt enjoys shooting pool, eating out, grilling, watching horse-racing, walking, working out, traveling, spending time with family, mowing the yard and waxing vehicles. "It's nice to play golf with my two boys too," Matt said.
Recent reads: Dream Team about the 1992 U.S. Olympic Basketball team. The Sixth Man about NBA Champion and Springfield, IL native Andre Iguodala's life.
Best Advice /
At some point Matt's Dad offered the following advice and it stuck:
        "You treat everyone the same including the Governor."
Matt has worked with Farnsworth Group for nearly 6 years.

In his spare time, he enjoys reading newspapers and watching the news, 60 Minutes, ESPN, Saturday Night Live, movies, and ballgames.

Matt received a bachelor's degree in Speech Communications from Eastern Illinois University. He also has a master's in education with emphasis in student personnel in higher education.

He grew up in Marshall, IL and it taught Matt the value of hard work.
Once a month we'll be spotlighting one of our great PEOPLE, someone who is moving us forward.
#farnsworthforward