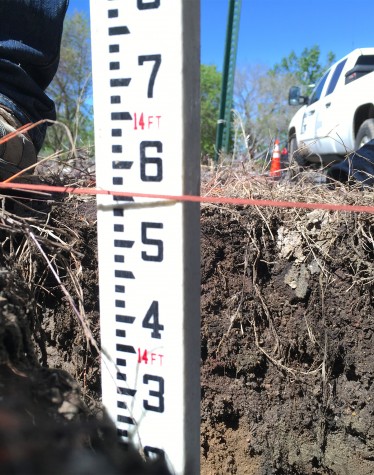 Subsurface Utility Engineering (SUE)
While nothing new for many of our projects and clients – the Subsurface Utility Engineering (SUE) process is becoming more of a requirement on public projects across the country. The SUE process is a great opportunity for our Company survey and civil engineering teams to collaborate in meeting the SUE standards, as currently set forth in the American Society of Civil Engineers national standard – ASCE/CI 38-02 publication.
In Colorado, Farnsworth Group has been providing SUE services since the law became effective in August 2018 – Colorado SB 18-167 (C.R.S. § 9-1.5-103). Our survey staff has been routinely integrating utility information compliant with the ASCE38-02 guidelines with topographic design surveys for over 20 years. 
Since the implementation of Colorado SB 18-167, we have collaborated with our in-house utility engineers and specialized underground utility locating subconsultants to provide fully compliant SUE services. Farnsworth Group's is prequalified to provide these services by both the Colorado Department of Transportation (CDOT) and the Illinois Department of Transportation (IDOT).
Is SUE Required for My Project?
SUE has been around on a national level for many years and is slowly being adopted on a state by state basis by DOTs and other public agencies as a requirement on public projects. In 2018, Colorado enacted a law (SB 18-167). The law requires that a SUE investigation be completed when projects generally meet the following criteria:
Contracts are with a public entity (including all special districts)

Involve primarily horizontal construction (not buildings)

An excavation footprint that exceeds two feet in depth for a contiguous 1,000 SF
Or: 
Involves utility boring, and requires the design services of a licensed Professional Engineer
SERVICES CAN INCLUDE, AND ARE NOT LIMITED TO:
811 Notification for SUE Projects

Subsurface utility locating in accordance with ASCE 38-02 and Colorado Law SB 18-167 quality level requirements

Survey the located utilities

Preparation of existing utility location mapping and drawing for the design engineers to use to complete the preliminary design.

Test hole excavation and observation

Preparation of pdf and AutoCAD drawings for all located utilities and test hole locations

Providing a report detailing the SUE investigation that is stamped by a licensed engineer
Learn More About Our Services